Extreme Temperature Graphitization Furnaces - Vertical Series Bottom Loading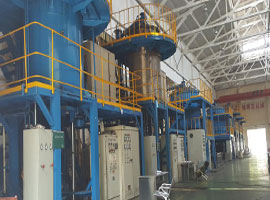 Product Introduction
CX-GF…/…VB series are vertical top and bottom loading batch type induction heating furnaces with round hot zone shape. Maximum operating temperature of 3000°C can meet all demands in carbon material's graphitization treatment. These furnaces use medium frequency induction heating method. A water cooled induction coil installed inside the furnace. At the center of the coil, there is a graphite crucible as the susceptor for the induction current, surrounded by carbon felt as the insulation material. Vertical bottom loading design is developed for easy loading/unloading of heavy sample into the furnace.
Applications
Sintering and Graphitization treatment of carbon materials, synthetic graphite film (Polyimide film and abbreviated PI film), heat conductive materials, carbon fiber rope, carbon fiber, C/C composites, Graphene heat treatment, Lithium battery negative electrode materials heat treatment, VGCF negative material treatment, purification and de-ironing process of Carbon Nanotube (CNT), other materials which can be sintered or melted in graphite hot zone (carbon included environment).
General Features
● 3000°C extreme temperature which can meet demands for all kinds of graphitization processes.
● Vertical Top Loading and Vertical Bottom Loading with single chamber or multi chambers design for high production capacity. The shell and door are water-cooled jacketed. Both outer and inner layer of the furnace shell and door is made of SUS304 stainless steel.
● Stable hydraulic lifting system for the chamber door or bottom. Ground guide rail and skip car for bottom loading models.
● Induction coil covered by high quality alumina coating in order to avoid short circuit between coil and carbon felt.
● High vacuum pneumatic valves equipped with position indicator in order to automatic control of the vacuum and gas supply system.
● Over-temperature, over-pressure, gas status, water lack and power failure alarms and automatic mechanical interlock for over-pressure protection.
● All the running parameters are stored in the PLC system. All stored parameters can be transferred into your personal computer through a USB port.
● High precision smart temperature controller which can store 20 programs with total 400 segments.
● International famous brand high accuracy pyrometer with temperature measuring range of 1000~3200°C or 600~3100°C. The accuracy of temperature measurement is 0.2~0.75%.
● Fully automatic PLC monitoring system.
● Remote operation, failure diagnosis and software upgrading.
● High automatic equipment, all the on/off switch components and all the running parameters are stored with the digital format in the PLC date base, there have communication interface for the convenience of customer intervene.
● Patented design for solving the erosion problem of the graphite crucible of the horizontal graphitization furnaces. Our patented design, increased the crucible life in a way that, crucible erosion be less than 5 mm after 60 batches treatment.
● Special designed induction coil which completely solve the insulation challenge of induction coil at high temperature.
● Patented designed multi layers insulation which increase the power saving efficiency of the hot zone and result in better temperature uniformity.

Optional Features
● High Vacuum System: Vacuum and high vacuum operation of these furnaces is only possible up to 2200°C.
● Gas Purification System
● Closed Loop Cooling Water System
● Distributed Control System (DCS)
● Multi chambers (with only one control cabinet for all chambers)

Specification:
Technical Details of Vertical Bottom Loading Models (One System with One Chamber)
Model
CX-GF-HV40/60VB
CX-GF40/100VB
CX-GF50/100VB
CX-GF60/100VB
CX-GF60/160VB
Max Working Temperature

3000°C

3000°C

3000°C

3000°C

2650°C

Usable Space (mm) W×H×L

Φ400×600

Φ400×1000

Φ500×1000

Φ600×1000

Φ900×1600

Max. Loading Capacity(L)

75

125

196

282

452

Temperature Uniformity
(ΔT between 1000°C and 2200°C)

±10°C

Max. Heat-up Rate (CEDRT)*

15°C/min (RT~1500°C), 10°C/min (1500°C~2500°C), 5°C/min (2500°C~3000°C)

Heating Power

160 KW

200 KW

250 KW

300 KW

350 KW

Frequency

2000 Hz

2000 Hz

1500 Hz

1500 Hz

1500 Hz

Ultimate Vacuum (CEDRT)*
1.0×10-5 mbar
1.0×10-3 mbar
Optional High Vacuum (CEDRT)*

Standard Feature

5×10-5 mbar
Pressure Rise
1.33×10-2 mbar/hr
Working Atmosphere
High Vacuum (Optional) / Vacuum / Inert Gas (Ar or N2)


Vacuum and high vacuum atmosphere is only permitted up to 2200°C.

Supply Voltage

3P, 380V, 50Hz/60Hz

Cooling Water Pressure

1.5~2.5 bar

Cooling Water Temperature

≤28 °C
* CEDRT: Clean, Empty, Dry, Room Temperature Furnace
Technical Details of Vertical Bottom Loading Models (One System with Two Chamber)
Model
CX-GF40/100VT-II
CX-GF50/100VT-II
CX-GF60/100VT-II
CX-GF90/160VT-II
Max Working Temperature

3000°C

2650°C

Usable Space (mm) W×H×L

Φ400×1000

Φ500×1000

Φ600×1600

Φ900×1600

Max. Loading Capacity(L)

125

196

452

1017

Temperature Uniformity
(ΔT between 1000°C and 2200°C)

±10°C

Max. Heat-up Rate (CEDRT)*

15°C/min (RT~1500°C), 10°C/min (1500°C~2500°C), 5°C/min (2500°C~3000°C)

Heating Power

200 KW

250 KW

350 KW

500 KW

Frequency

2000 Hz

1500 Hz

1500 Hz

1000 Hz

Ultimate Vacuum (CEDRT)*
1.2×10-3 mbar
Optional High Vacuum (CEDRT)*
5×10-5 mbar
Pressure Rise
6.7×10-3 mbar/hr
Working Atmosphere
High Vacuum (Optional) / Vacuum / Inert Gas (Ar or N2)


Vacuum and high vacuum atmosphere is only permitted up to 2200°C.

Supply Voltage

3P, 380V, 50Hz/60Hz

Cooling Water Pressure

1.5~2.5 bar

Cooling Water Temperature

≤28 °C