SILICON CARBIDE SINTERING FURN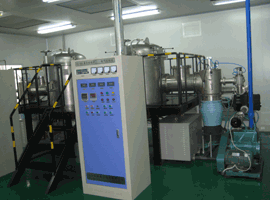 Product Introduction
CX-SCSF series are top loading batch type induction heating furnaces with the maximum operating temperature of 2400°C. These furnaces operate with rough vacuum, partial pressure and micro-positive pressure of protective gases such as Argon and Nitrogen. Oxygen atmosphere is prohibited in these furnaces due to graphite crucible and graphite insulation used inside the furnace.
CX-SCSF series use medium frequency induction heating method, however the resistance heating method is optional in case of client demand. A water cooled induction coil installed inside the furnace. At the center of the coil, there is a graphite crucible as the susceptor for induction current, surrounded by carbon felt as the insulation material. Cylindrical hot zone design ensure uniform heating inside the hot zone.
Applications
These furnaces are suited for silicon carbide sintering, ceramic matrix composite sintering, transparent optical ceramic sintering, C/C composites sintering and carbonization.
Features
• Vertical top loading or horizontal front loading with single chamber. The shell and door are water-cooled jacketed. The outer layer of the furnace shell is made of carbon steel while the inner layer is made of SUS304 stainless steel. The inner stainless steel wall features long time uses without rusting as well as less adsorption of induction eddy currents in comparison to plain carbon steel.
• Induction coil covered by high quality alumina coating in order to avoid short circuit between coil and carbon felt.
• High vacuum pneumatic valves equipped with position indicator in order to automatic control of the vacuum and gas supply system.
• Gas flow control system.
• Over-temperature, over-pressure, water lack and power failure alarms and automatic mechanical interlock for over-pressure protection.
• High precision smart temperature controller which can store 20 programs with total 400 segments.
• Sliding thermocouple for low temperature measurement and pyrometer for high temperature measurement, features high precision temperature control from room temperature (RT) to 2400°C.
High temperatures are generally measured using pyrometers and each kind of pyrometer has a limited measuring range, for example 350-2500°C. Therefore, when the furnace start heating from RT, there will be an undefined heating process out of pyrometer measuring range. In some cases, batches are sensitive and require to have a defined heating curve from RT. In these cases, using the Sliding Thermocouple for low temperature stage of heating cycle, and pyrometer for high temperature cycle is very useful. Thermocouple measure temperature from RT to a defined high temperature point. After reaching that point, thermocouple automatically slide out of the hot zone and pyrometer measure temperature. During cooling, after furnace cooled down to that defined temperature, thermocouple automatically return inside the hot zone and regulate temperature down to RT.
• High capability MF contactor for furnace operation switch.
• Fully automatic PLC monitoring system.
• Remote operation, failure diagnosis and software upgrading.
Optional Features
• High Vacuum System
• Gas Purification System
• Closed Loop Cooling Water System
• Distributed Control System (DCS)
• Double chambers (with only one control cabinet for two chambers)
• Resistance heating instead of induction heating

Technical Details of Vertical Top Loading Models
Model
CX-SCSF300V
CX-SCSF800V
CX-SCSF1200V
CX-SCSF1500V
CX-SCSF1600V
CX-SCSF2000V
Max Working Temperature

2400°C

Usable Space (mm) W×H×L

Φ200×300

Φ400×800

Φ500×1200

Φ600×1500

Φ600×1600

Φ600×2000

Max. Loading Capacity(L)

9

100

235

452

452

565

Temperature Uniformity (ΔT between 1000°C and 2200°C)

±10°C

Max. Heat-up Rate (CEDRT)*

15°C/min

Heating Power

75 KW

120 KW

200 KW

260 KW

300 KW

500KW

Frequency

4000 Hz

2500 Hz

1500 Hz

1000 Hz

1000 Hz

900 Hz

Control Method

Thyristor or IGBT Control (customer-specified)

Ultimate Vacuum (CEDRT)*

0.2 mbar

Optional High Vacuum (CEDRT)*
5×10-5 mbar

Pressure Rise

0.01 mbar/hr

Working Atmosphere
High Vacuum (Optional) / Vacuum / Inert Gas (Ar or N2)
Quenching Gas Pressure

1.5 bar (Absolute Pressure)

Supply Voltage
3P, 380V, 50Hz/60Hz

Cooling Water Pressure
1~2 bar

Cooling Water Temperature
≤28 °C
*

CEDRT: Clean, Empty, Dry, Room Temperature Furnace
Technical Details of Horizontal Front Loading Models
Model
CX-SCSF300H
CX-SCSF400H
CX-SCSF500H
CX-SCSF600H
CX-SCSF700H
CX-SCSF900H
Max Working Temperature

2400°C

Usable Space (mm) W×H×L

300×300×600

400×400×800

500×500×1200

600×600×1500

700×700×1600

900×900×2000

Max. Loading Capacity(L)

54

128

300

540

784

1620

Temperature Uniformity (ΔT between 1000°C and 2200°C)

±10°C

Max. Heat-up Rate (CEDRT)*

15°C/min

Heating Power

70 KW

120 KW

200 KW

260 KW

300 KW

500KW

Frequency

4000 Hz

2500 Hz

1500 Hz

1000 Hz

1000 Hz

900 Hz

Control Method

Thyristor or IGBT Control (customer-specified)

Ultimate Vacuum (CEDRT)*

0.2 mbar

Optional High Vacuum (CEDRT)*
5×10-5 mbar
Pressure Rise

0.01 mbar/hr

Working Atmosphere
High Vacuum (Optional) / Vacuum / Inert Gas (Ar or N2)
Quenching Gas Pressure

1.5 bar (Absolute Pressure)

Supply Voltage

3P, 380V, 50Hz/60Hz

Cooling Water Pressure

1~2 bar

Cooling Water Temperature

≤28 °C
*

CEDRT: Clean, Empty, Dry, Room Temperature Furnace